ESPADRILLES ONLINE AT LAVALETAESPADRILLES.ES 
As a result of our passion and years of experience making espadrilles, lavaletaespadrilles.es is born. Through this online shop we sell unique and high quality designs.
All our models are handmade in Spain. In addition to creating our own designs, we also manufacture them ourselves, so we can offer an exclusive product, high quality and the best price.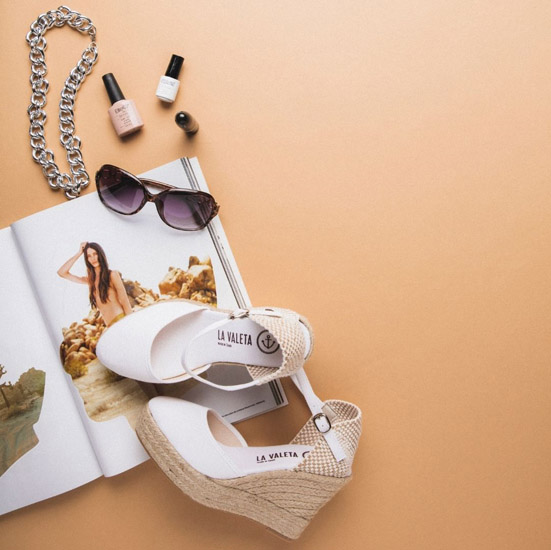 FREE SHIPPING, EXCHANGES AND RETURNS WHEN YOU BUY ESPADRILLES ONLINE ON MANY OF OUR MODELS
At lavaletaespadrilles.es you can buy espadrilles online easily and safely. From LA VALETA we want to offer you the shipping costs, first exchange or free return for many of the purchases made from Peninsula or Andorra. 
For the rest of shipments we will apply the current rates of Correos. 
In our online espadrilles shop you will find unique and exclusive espadrilles models for both men and women. All our creations are made in Spain and made of 100% handmade jute.
ESPADRILLES ARE TREND AND FASHION
Although this shoe has a humble origin today has become a 'must have' fashion. When the good weather approaches, we can't resist rescuing them to include them in our most chic looks. 
The origin of this shoe can be found in the Egyptian civilization. In Spain and the south of France it was traditionally used by peasants. Approximately during the 30's great figures of the world of fashion and art also began to wear them, and since then have not ceased to be trend. 
The espadrilles are so beautiful, versatile, comfortable and timeless that we cannot avoid feeling a certain obsession for them. For a long time they were considered only for the beach, but they have proved to be much more than that. And the fact is that the espadrilles are capable of integrating themselves in a very chic way in looks as different as the beach or the office. 
In lavaletaespadrilles.es you can buy espadrilles online and find all the street style inspiration to dress them in a very casual way. 
LA VALETA FAMILY
Pretty soon you're going to be part of our big family. At LA VALETA we're looking forward to meeting you and we'll be delighted to see how you've been able to integrate your new espadrilles into your cooler looks. Take a picture and share it on social networks, use the Hashtag #LAVALETAESPADRILLES and tag us @lavaletaespadrilles.